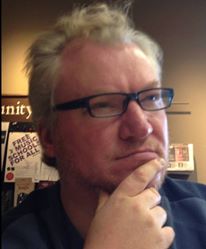 My passion for writing shines most brightly in a series of science fiction novels I'm working on at the moment, and most likely will be for the foreseeable future. My Bullet stories fall under the category of "space opera", though my writing style has been compared to "a young Heinlein".
My literary influences include Ray Bradbury, John Wyndham, Tom Clancy, and Ian Fleming. I enjoyed the original nine novels in Jerry Ahern's "The Survivalist" series, and my literature has been influenced by science fiction classics such as Blakes 7, Logan's Run, Silent Running, Dark Star, and Star Wars.
Right now the only publication I have available for sale is Blacker available now exclusively for Amazon Kindle. Blacker is a survival horror novel which takes part in a post apocalyptic Glasgow.